Flygbussarna Case Study
"We don't want to rely on old knowledge. It would have been so easy to say, 'this is how we have done it for the last 10 years'. But we wanted to use data to see the truth, so that we could make decisions that would help us to improve all areas of our organisation."
As a rallying call for the power of data and willingness to embrace change, the above quote from Flygbussarna Project Manager and Business Developer Johanna Gerdin Bueno is difficult to beat.
But Johanna and the team aren't merely offering impressive soundbites: Flygbussarna has embarked on a radical optimisation drive, adapting the business so that it can continually adapt schedules in line with data-directed optimisations – an approach which has paid huge dividends, with a 1.7% reduction in driver payment costs.
Doing Things the Flygbussarna Way
The above example of fresh thinking should perhaps come as no surprise: Swedish bus company Flygbussarna, which transfers some five million passengers a year from local cities to seven of the country's biggest airports, has never aimed to be 'just another bus operator'.
In 2009 Flygbussarna worked with a local advertising company to produce an eye-catching construction of a coach built from the wreckage of 50 cars. The point – cleverly and effectively communicated – related to the energy efficiency of bus travel in comparison with private cars.
Today sustainability remains central to the Flygbussarna offering – all 82 vehicles have been completely fossil fuel free for the past five years – but it is the award-winning customer experience that really sets the company apart, with all buses equipped with on-board Wi-Fi and air conditioning.
The Efficiency Drive
Despite its acclaimed customer service levels, in recent years Flygbussarna has faced increasingly fierce competition from a combination of taxis, trains and privately-owned cars. Furthermore, with airports reducing car parking charges, driving has become more affordable – eroding one of Flygbussarna's unique strengths. The company was challenged to reduce operational costs – of course, without adversely affecting passenger experience.
Project Manager Johanna Gerdin Bueno has spent the past two years managing an optimisation project, with specific focus on becoming more responsive operationally. To that end, Johanna spoke with Flygbussarna's existing software supplier, Trapeze Group, regarding the role that technology could play.
Johanna realised that technology had the potential to enable them to be far more flexible in how they managed operations: "When a computer allocates duties, it considers so many more data points than a human ever could – it looks much farther ahead in the calculations. As a result, we are able to run tests with the data: making small tweaks to how the outcomes change, and using this to find the most optimal approach. We could never do that before."
Johanna reports that this flexibility has enabled Flygbussarna to significantly increase overall efficiency: "We implemented the software in November 2018 and could see the cost saving immediately. The investment was repaid within a year."
Manager for Business Development Linda Wiklund added: "This new AI technology means we can work in a way which is data driven and in line with our digital strategy which allows us to make more fact based decisions. In the long run, the fact we are saving time and money, allows us to continue to run our different routes as frequently as we do."
Impressively, such is the flexibility of the solution, that Flygbussarna was able to quickly reschedule on a daily basis over Christmas, enabling the team to far more efficiently meet the requirements of fluctuations through the festive period – a process which usually takes week to complete.
The level of efficiency delivered has been hugely impressive for all involved, with an overall 1.7% reduction in driver pay time – a saving of more than 4,700 driver hours per year.
Partnership for Future Success
Johanna and Linda feel the relationship between Flygbussarna and Trapeze has evolved through this shared project: "We have been working with Trapeze for almost 20 years – and today we are closer than ever. Trapeze is focused on user experience and optimisation, helping us to move ahead of our competition. It is a partnership relationship – not just a supplier and customer.
However, the credit for this success story clearly belongs to the Flygbussarna team. It is impossible to not be impressed by their foresight to use data to drive their decisions – and of course, their willingness to embrace the changes that would improve their business.
Indeed, the modern world shows us time and time again that data can transform our lives – but only if we are willing to use the information and change in response.
As Johanna, Linda and Flygbussarna have shown us, there are huge benefits to doing so. It is the difference between struggling against the rising tide of increasingly fierce competition, or finding new ways to streamline operations, remaining competitive, and continuing the deliver award winning, customer-centric, and sustainable transport.
Who wouldn't want to embrace that?
Flygbussarna Facts: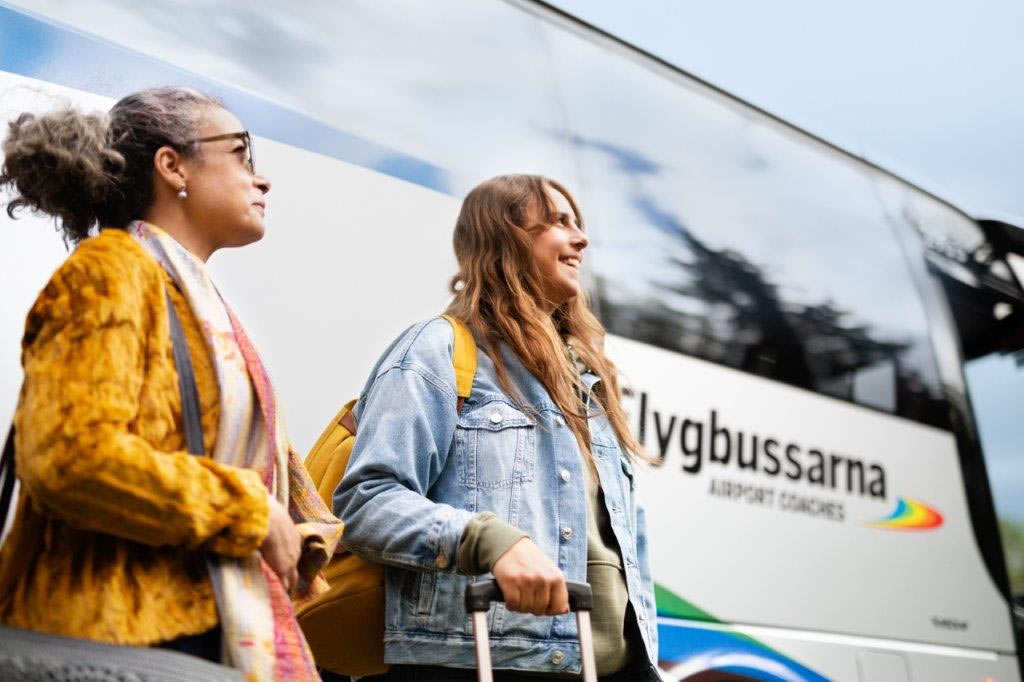 400 drivers and 40 staff
87 buses
11 routes
4.7 million passengers a year